We all know that linear actuators are used to create motion in a straight line. These actuators are used in a number of industrial applications. Heavy duty linear actuators are special actuators that are designed particularly for use in applications that demand high power. What are heavy duty actuators? Are you interested in knowing more about these special linear motion machines? Read the following post to get a detailed understanding and complete knowledge of heavy duty linear actuators.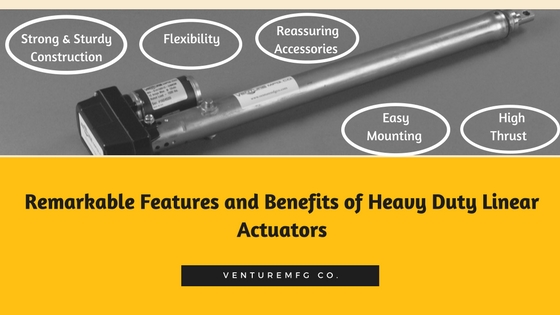 Some Striking Features of Heavy Duty Linear Actuators
Heavy duty actuators have a number of striking features, some of which are as given below:
The heavy duty linear actuators are highly resistant to extreme temperatures, vibrations, and corrosion.
These devices have digital position feedback. Thus, the accuracy of the actuator is improved, which contributes to the successful use of the actuator. This helps achieve a high level of position accuracy and increased efficiency.
These actuators feature a special ball screw actuator design.
Continuous duty cycles can be performed with the help of these heavy duty actuators.
The actuators are compatible for use with stepper, as well as electric motors. This makes them highly versatile.
The heavy duty actuators require very less maintenance in their entire service life.
These linear actuators are provided with electric brake. Thus, any possibilities of back-drive are eliminated.
Why Use Heavy Duty Linear Actuators for Some Applications?
There is a vast list of advantages, which explains the significance of these heavy duty actuators in different applications. What are these advantages? Read on to know:
Strong and Sturdy Construction – The heavy duty linear actuators feature rugged steel construction. This makes the actuators capable of handling harsh operating conditions.
High Level of Flexibility – The heavy duty actuators offer flexible installation options. You can either install these actuators as a small part of a large machine, or as a stand-alone system based on the application requirements.
High Thrust – These linear actuators are known for providing high thrust at high speeds. As a result of this, the production cycle can be carried out smoothly without any compromises.
Protection from Environmental Elements – These actuators are generally enclosed in the casing made from stainless steel. This helps protect the actuators from contamination that can occur as a result of some environmental or industrial elements.
Easy Mounting – These linear actuators are very easy to mount. This allows for an easy alignment of the actuators.
Reassuring Accessories – One of the major advantages of using a heavy duty linear actuators is that that they come with limit switches and adjustable controls. Stainless steel materials of high quality are used to form linear tracks. This helps ensure the efficient operation of these actuators.
Hope this post has helped you get an idea of heavy duty linear actuators. These devices have a great potential to deliver outstanding performance in various industrial applications. Therefore, it is always a good thought to consider buying such crucial industrial products from trusted, well-known and experienced manufacturers and suppliers of quality actuators. Venture Mfg. Co. is one such manufacturer and supplier of these actuators. The company has a huge experience in manufacturing different types of heavy duty actuators for varied application requirements.