The invention of electric linear actuators has revolutionized the way we perform various tasks in our daily life. The works which were once done manually are now executed using automation machines, wherein linear actuators are the crucial component. Right from automatic windows and cupboards to heavy-duty conveyors and fork lifts, electric linear actuators play a crucial role. With these huge demands, there are several manufacturers who offer numerous models of actuators in a wide variety of stroke sizes, speeds, voltages and types. Amongst these several models, it often becomes difficult for the user to make the right purchase. Here are some basic yet critical considerations to consider before making a purchasing decision.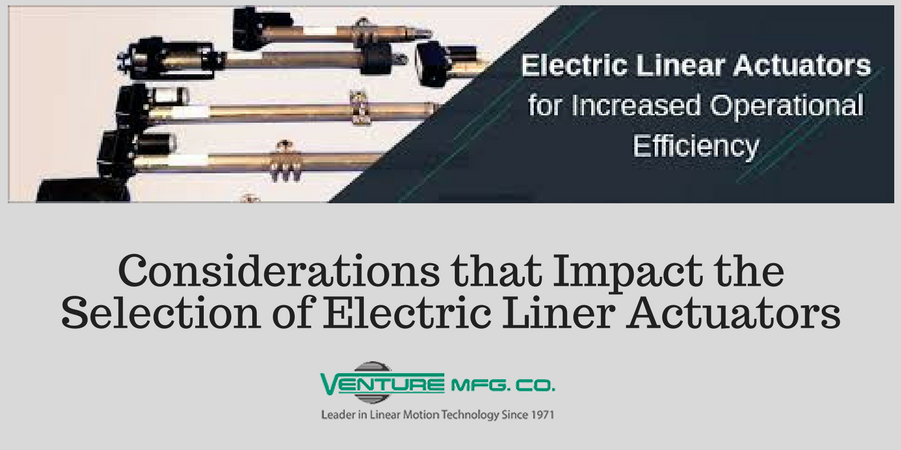 Basic Yet Crucial Things!
Following points can be kept as a guideline to make the right actuator selection, which in turn helps to continually improve manufacturing operations and product development processes.
Weight or force required to move and hold the load
Power supply options AC or DC motor voltage needed to operate the actuator
Distance or range of motion of the actuator
Rate at which the linear actuator moves the load
Stroke length – the amount of travel required by the application
Percentage of time an actuator is in motion relative to total time
Mounting options (Front or back mounted)
Safety mechanisms incorporated
Resistance to factors in operating environments such as temperature variations, moisture, vibration, or end-product shock
Required footprint
Performance when exposed to corrosive substances
Ergonomics factors
System cost, installation cost and preventive maintenance costs
Operating conditions
Duty cycle
Other foreseeable risks
Aforementioned are a few of the many considerations useful for evaluating electric linear actuator options. However, the points are not limited to only these. You must carefully evaluate your application requirements beforehand. This will help you to clearly communicate your requirements to the manufacturers' design and manufacturing team and get the right design that works optimally in your application.