When it comes to material handling, linear actuators work mostly behind the scenes. However, they provide the motion solutions required to get the job done. Various types of linear actuators including electric, electro-mechanical, and electric rod actuators can be used to provide the right type of motion for material handling applications.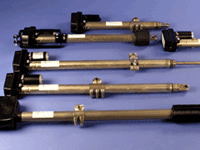 Linear Actuator Solutions for Material Handling Operations
The choice of linear actuator makes an immense difference to an application. For this reason, material handling engineers ensure that the actuator chosen will provide the most number of benefits to the equipment. Given below are a few examples of how electric and electro-mechanical actuators can support different applications.
Diverting and Holding:

A bottle filling process requires the bottles to be shifted onto two conveyors. Thus, the application requires a system that stop the movement of the bottles, and then divert the same to the lanes. A rodless electro mechanical actuator can be used as the solution. The actuator can be mounted on top of the conveyor lanes. Additional tooling can be provided to support the actuator with the loads, and to perform the lane diverting movements. Once the machine is started, the actuator can push a pivoting device that keeps the bottles from moving.
Lane Changing:

An F&B company wanted to ensure that packets of different shapes and sizes to stop at precise points, and change lanes quickly. The original design of the material handling system included pneumatic cylinders with snap on rings. The disadvantage was that workers had to install and remove the rings manually, which would turn out to be very time consuming. An electric actuator could be used for this problem. It can be designed in a small size to fit the equipment's specifications. With electric, the actuator can provide a number of positions, allowing the packets to stop and change lanes accordingly.
Case Packaging Changeovers:

When pre-form liquid containers need to be packaged, several lines of case packers, which house bottles and case sizes are used. The lines require intermittent motion to perform the requisite changeovers. Generally pneumatic cylinders are used to perform this action. However, as the cylinders need to be manually installed and removed, the cycle times can be too slow. An electric rod actuator can be used to improve process efficiency. The changeovers can be fed into the program just once, and the actuator can perform the rest of the actions. This can lead to improved cycle and changeover time
F&B and packaging applications require fast speeds and precise movements for the manufacturing and packaging of food products. Electric actuators can provide the requisite amount of speed and flexibility to get the job done.