Electro-mechanical actuators, which are driven by an electric motor, are growing in popularity in in factory automation, packaging, health care devices, and many other fields. With simpler, and easier to control features, they can offer a better solution for various applications demanding high stroke speed and high precision controlled linear motion. This multi-purpose electric linear actuators are designed and manufactured in accordance with strict guidelines and standards to provide the highest level of performance and accuracy. Available in a wide range of specifications to meet varied demands, electro-mechanical actuators provide significant advantages in more complex applications. This post discusses a few amongst the several advantages of these electric linear actuators.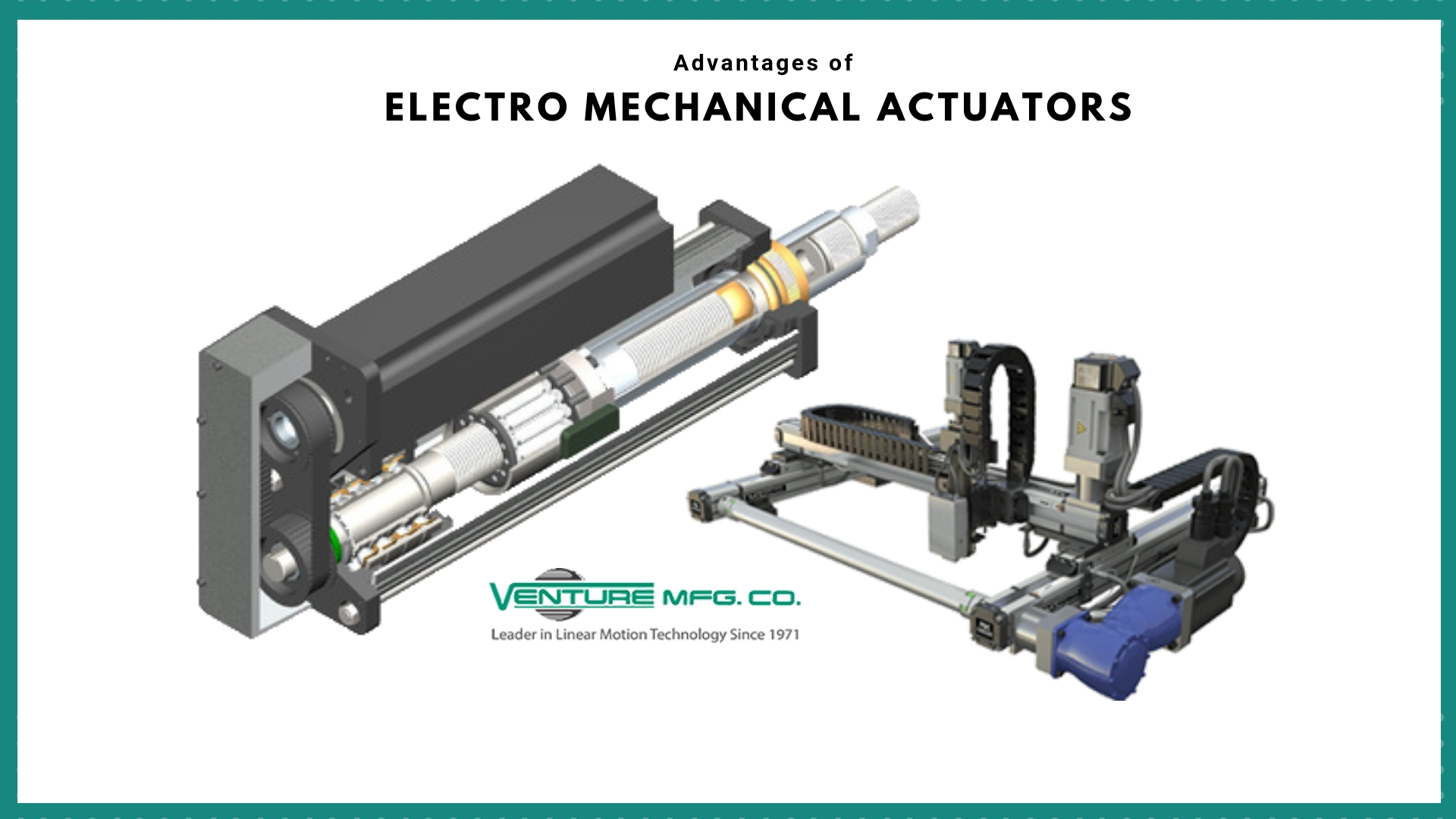 Notable Advantages of Electro-Mechanical Actuators
Designed to perform in tough industrial environments, electro-mechanical actuators assure quiet, smooth, and repeatable operation. The other advantages that make them a suitable choice in a wide range of products and processes include:
They improve machine performance owing to their accurate and smooth delivery of force.
They are more resistant to temperature variations.
Since there is no oil to change, no leaks to repair, these electric linear actuators require less maintenance
With easy set up and installation, they save more than 50% of running costs
As they do not suffer air leaks, these linear actuators are suitable for applications that require clean operation as in the case of food, beverage, packaging, medical industries.
Compared to equivalent hydraulic and pneumatic systems, elecro-mechanical actuators are available in modular design to provide complete control of motion profiles.
Since they use power only when they are moving, they are considered as a more energy efficient compared to hydraulic and pneumatic systems.
They are designed ruggedly utilizing the best of raw materials to can be run continuously without affecting performance.
Risk of contaminating the environment is minimal as there are no hydraulic fluid leaks.
They guarantee quieter operation compared to their counterparts such as pneumatic and hydraulic actuators.
They facilitate a high degree of customization in desired loads, duty cycles, and strokes and retract lengths.
They are offer years of reliable and low maintenance operation irrespective of usage.
These actuators are equipped with aluminum housings for corrosion protection with weather resistant sealant.
Electro-mechanical actuators possess high speed and acceleration capabilities with excellent load bearing capacity
With such an endless list of advantages to offer, there is no surprise to see their widespread usage for varied applications across industries. This risen demand rendered added responsibilities to the actuator manufacturers to produce them in varied configurations to meet the application requirements. There are several leading names in the industry who offer best selection of technologies to suit the needs of our customers' applications. If you are in search for a manufacturer who is committed to meeting the increasing service demands, then Venture Manufacturing can be your trusted source to get the job done rightly. They brings together the technology and experience ensure precise speed control and reliable performance.