Linear actuators used in the food industry need to be tough enough to handle the rigorous challenges of everyday functioning. They also need to be resilient to regular wash-downs including rigorous water sprays and harsh chemicals. Since all equipment used in the food industry need to adhere to hygiene norms, the actuators need to be sturdy enough to handle the above-mentioned cleaning treatments.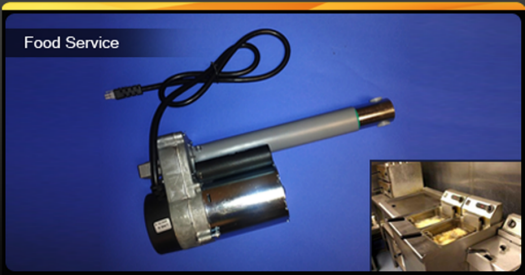 Case Studies of Actuators Used in Food Industry
Several of the movements and functions of actuators can be changed and customized to meet the needs of the food industry:
Problem: Actuator Function of Movement Not Easily Adjustable
Pneumatic actuators don't allow the movement/ function to be altered. They are able to provide movement according to a pre-sent magnitude and range that cannot be altered. This is a challenge when working with differently sized equipment. The range of movement will need to be altered according to the size.
Solution:
This can easily be fixed using an electric actuator. However, if space is a constraint, you can opt for an electric actuator integrated with a servo motor.
Problem: Ultrasonic Food Cutting Machine Incompatible with Actuators
Most pneumatic actuators might be unable to support an ultrasonic cutting machine to cut different shapes and sizes.
Solution:
Opting for an electric rod actuator is a solution. It is easily customizable and can integrate seamlessly with ultrasonic cutting machines. It is important that the components as well as the paint used should be of quality allowed by the local Food & Health Authorities.
Choosing the right actuator for your food manufacturing, or processing systems is extremely important. Actuators can help solve problems in the food industry related to manipulation of equipment. A reliable actuator will ensure that the processes run smoothly while providing you with reliable results. When considering actuators, two factors play the most important roles, one is repeatability, and the other is level of customization. Since, the needs of consumers keeps changing your processes should be easily customizable. The actuator should also be able to provide you high levels of repeatability. This ensures that you get accurate results every time.