Linear Actuators for the medical industry are used across several applications to provide precise movement. They are constructed sturdily to provide safe operation. Since, the components need to withstand prolonged or sudden movement, the construction should allow for such needs. The requirements of the medical industry in terms of automation are varied. Hence, the actuators need to be designed according to various specifications. Depending on the application, the type of linear actuator will be chosen.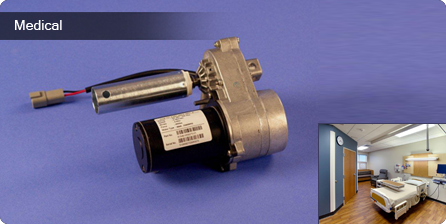 Case Study: Linear Actuators Used To Support Hospital Beds
Linear actuators are used to provide precise motion in various medical applications. When used to support movement of hospital beds, they need to feature specific characteristics:
The actuators should provide noiseless operation. The movement should be smooth i.e. without any jerks. They should also be easy to operate. The actuators should be able to provide a wide range of motion as well.

The functioning should be safe. Safety is one of the most important factors under consideration. The equipment should not pose any threat to the occupant.

The levels of hygiene in a hospital are very clearly defined by state authorities. In lieu of these norms, two factors need to be considered. Firstly, the actuators should be manufactured using materials that are non-hazardous and allowed by the relevant regulatory bodies. Secondly, the equipment should be easy to clean. They should also be resilient to regular cleaning and chemicals used in cleaning agents.

Since hospital beds are equipped with various adjustable components like headrests, footrests, knee rests, and so on, it is important that they are compatible with one another. The movement of the different actuators used should complement one another. In addition, the functionality of one actuator should not adversely affect the functioning of the other. Hence, the manufacturer has to play close attention to the selection of linear actuators used in hospital beds to ensure their compatibility.
When considering the movement of hospital beds, the actuators used should support the movement of the bed as well as the person lying in it. Since this product is targeted at old and physically ill people, the movement should not cause any additional discomfort. All these parameters are considered when choosing the actuator.
Linear actuators used in the medical industry need to be constructed with some very specific attributes like those mentioned above. Adherence to parameters outlined by safety and hygiene bodies is essential. Hence, actuators need to be manufactured and installed after careful consideration.