Efficient food processing and packaging operations call for high-level robust technologies that are durable, precise, and safe for food. Various food industry procedures including cutting and slicing of raw materials and filling beverages, which need to be done systematically, and without any contamination. To fulfill today's increasing demand, electrical actuators are used across food processing and packaging units to get the job done at a high speed and with maximum efficiency. Additionally, it is crucial that these actuators are constructed from materials which do not harbor bacterial growth. Isn't it enough? No. Would you like to know why an electric actuator plays a vital role in food processing systems? Or what are the reasons to consider electric actuators for food and beverage applications? The post discusses the benefits and application areas of electric actuators.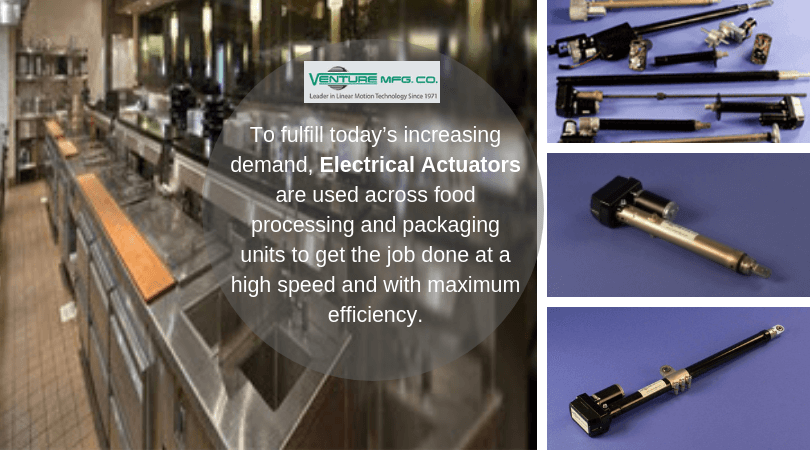 Benefits of Electric Actuators in the Food Industry
Electric actuators offer various advantages for many industries, and the food industry is one of those. They are designed to perform in a rough and challenging environment. Here are a few benefits:
Speed up Operations: Certain processes such as wash-down, caustic cleaning, slicing, and cutting can wear out the food equipment over time. Hence, it is important that the actuators are corrosion resistant and functioning well. Depending on the materials used for the construction, electrical actuators perform these operations with ease and less maintenance. These actuators increase efficiency and enhance feedback by speeding up the operations.
No Fluid Leakage: Unlike hydraulic actuators, there is no fluid leakage in case of electric actuators. It helps eliminate contamination on food processing and packaging assembly lines.
Hygienic Designs: Electric actuators are designed in such a way that they help eliminate the gathering or accumulation of bacteria or food particles in crevices. Many times, they are available in a cylindrical shape that helps in minimizing the contamination on the actuator after the cleaning process.
Corrosion Resistance: Electric actuators made of high-quality corrosion-resistant materials which can withstand harsh environments. Stainless steel is known for its corrosion resistance in harsh environments. Which is why, this material is used to construct actuator bodies, fasteners, and motor housing.
Clean and Robust Actuator Technology: The food production and packaging is vast and ever-changing. Also, there are several compliances and legal regulation these units need to meet. Filling machines are vital part and have to handle dry solids, powders as well as thick and thin liquids. This wide range of equipment requires a hygienic design that can keep products clean and withstand stringent cleaning procedures. Electric linear actuators play an important role in these machines. It allows specified filling and meets stringent cleanliness requirements with various processes including wash-downs.
Applications of Electric Actuators
Electrical actuators are a crucial part of food processing and packaging systems. They allow you to control your production more efficiently by providing motion to the machines at required speeds. In addition to this, they help in eliminating potentially harmful fluid powered systems from the food production environment. Vowing their uses, electric actuators are widely used in the following areas.
Conveyor Process
Bread Robots
Packaging Robotics
Ergonomic Stations
Thus, the food industry is following the trend of automation to complete the packaging and other processes with ease, and increase production volumes. However, it is essential that you get the actuators installed from a reliable manufacturer and service provider. Electric linear actuators by Venture Mfg. Co. is one of the renowned manufacturers of electric actuators and service provider as well and can meet your automation needs in the food industry. These products help in every step of the process.