Electric linear actuators, which are basically electro-mechanical devices, find immense applications everywhere. It is one of those invaluable components that makes automation possible, thus making our lives easier and smarter than before. One such application wherein electric linear actuators are employed largely is to automating the opening/closing action of the garage door. This post discusses how linear actuators contribute in optimizing the functioning of the garage door.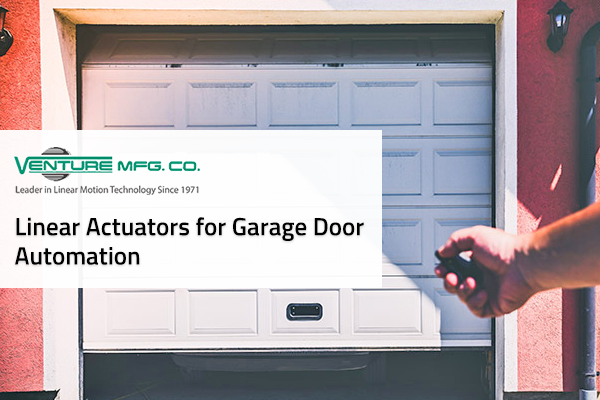 Automate the Garage Door Utilizing the Right Linear Actuators
Garage is usually built with heavy duty doors considering the importance of providing utmost safety to the items stored. In the past, those heavy weighted doors were opened and closed manually, which demanded heavy pressure application. Those manual operations were not only tiresome but were also time consuming. However, the use of electric linear actuators has drastically changed the way how conventional segmented overhead garage doors or large single piece slide doors are operated. Depending on the force requirements of your garage door, you can choose the right type of heavy duty actuators or mini actuators.
The following are the areas wherein actuators are incorporated to automate the functioning of garage doors.
Chain drive that delivers lifting and descending motion
Screw drive that helps lifting the door upwards
Belt drives
Direct driver openers
Jackshaft openers
Garage lock such as:

Side door bolt
Deadbolt lock
T-handle lock
No matter where the areas of applications in garage doors are, electric actuators deliver precision and repeatability, whilst also eliminating the manual labor to a great extent. Available in several specifications, they meet the automated motion needs of the heavy-duty garage doors.
If your next project involves the automation of swing gates or garage doors, invest in the right actuator unit that contributes to the smooth and quite functioning of the door. If you are confused to make a choice, please seek the advice and make use of the industry knowledge of manufacturers like Venture Mfg. Co. Such leading manufacturers not only keep a large inventory of ready to use actuation units, electric motor,motor gearboxes, and control boxes but also provide customized motion control devices to upgrade your garage door functionality.