Linear actuators are devices that create straight, and linear motion. These actuators are used for controlling motion in complex electronic applications such as robotic control, lighting systems, and HVAC Systems. Venture Mfg. Co. designs custom linear actuators that meet specific application requirements of its industrial clients. You may think why you need customized linear actuators, and how they may contribute to your applications. This post tries to find answers to all these questions.
Customized Linear Actuators Provided by Venture Mfg. Co.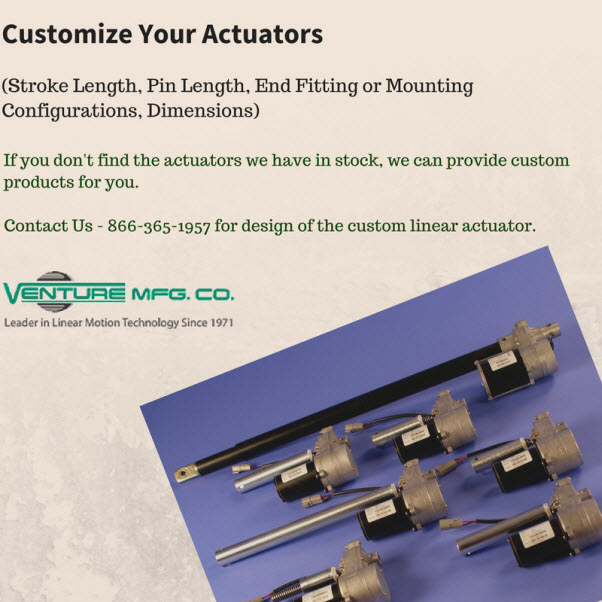 Following are the three main types of customized linear actuators provided by Venture Mfg.:
Electric Linear Actuators: These actuators are known to provide higher precisions and possess a wide range of specific control options.
Heavy Duty Electric Linear Actuators: These electric actuators are used in heavy duty applications, and equipped with stepper motors. These actuators are contamination free, provide installation versatility, and can serve as perfect replacements for pneumatic and hydraulic actuators.
Industrial Linear Actuators: These actuators are designed to support applications where pulling, pushing, and reliable lifting is required. The industrial linear actuators are used in most industrial systems.
Benefits of Custom Linear Actuators Provided by Venture Mfg. Co
Following are the benefits of custom linear actuators provided by the Venture Mfg. Co:
Designed to Specifications: We can provide linear actuators in special stroke lengths, as well as pin lengths, end fittings or mounting configurations, and motor lead wire lengths, connectors, and special paints.
Space-friendly Designs: Our linear actuators are distinguished by their space-friendly designs, which make them easier to incorporate into complex, and automated systems. The compact size helps reduce maintenance related issues associated with many large linear actuators. Our custom designed linear actuators are regularly employed in various commercial, as well as residential applications.
Flexible Designs: Our actuators are flexible, which mean they contribute to the user-friendliness of a device. We can customize the actuators to meet requirements of any complex application. The immense flexibility provided by our actuators allows OEM's to create devices, which are not limited by restrictions.
Allows Easy Motion Control: Small actuators provided by us allow OEMs and appliance designers to use them for motion tasks that require sophistication. For example, today our small linear actuators are used in robotic applications to perform motion tasks.
Reliable Performance in Demanding Environments: Our custom linear actuators can withstand most demanding and complex environments. The linear actuators don't produce noise, vibrations, and provide quieter performance in all environments. Electronic linear actuators are self-lubricated with less moving parts, which help reduce the overall maintenance costs.
Venture Mfg.'s linear actuators are used in various applications due to the above-mentioned benefits and much more it offers. For more information on custom actuators, contact Venture Mfg. Co. today.