Ergonomics is very important when it comes to medical applications, such as dental chairs. The dental chairs often require adjustments for proper posture of patients. This requirement is fulfilled by actuators that add versatile adjustment to a dental chair, by combining different movements in one smooth operation. This offers comfort and safety to both the dentist, as well as the patient. The actuators are easy to mount, require less maintenance.
What are some of the Important Features of Dental Chairs?
For a dental clinic, dental chairs are very important. These chairs are recognized for their precision and ergonomics. Choosing a chair, which is comfortable for both the dentist as well as the patient is of utmost importance.
Some of the main features of a dental chairs include
Ergonomic
Thin Backrest
Soft Cushioning
Swivel
Programmable Positions
Magnetic Headrest
Double-Articulating Headrest
Movable Armrest For Easy Patient Entry/Exit
Footswitch Or Touchpad
Seat Tilt
Some of the features of dental chairs may be more significant than others, for example, a thin backrest provides the dentist sufficient leg room for better access to the dental cavity. Most of the dental chairs are equipped with hydraulics systems for powerful and continuous movement of the chair. These chairs are have actuators, which enable easy adjustment of the chair height, footrest, and headrest.
What are Linear Actuators? How are they Useful in Dental Chairs?
The actuator is a unit that converts the operating voltage from a control box into a linear movement. Following are the ways linear actuators support dental chairs: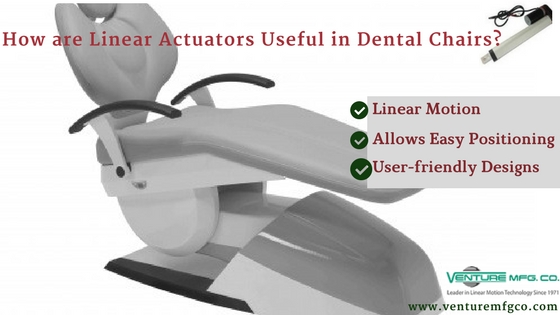 Linear Motion: A linear actuator produces motion in a straight line, in contrast to the circular motion of a traditional electric motor. When used in a dental chair, you can adjust the random linear driving mechanism position according to individual requirements.
Allows Easy Positioning: There is built-in displacement sensor to control motor movement, by a microcomputer for receiving and processing, real-time monitoring of linear driving mechanism position. This helps in adjusting the position of a dental chair more accurately. The standard stroke with different load mode, use requirements that are different for different combination design.
User-friendly Designs: Some linear actuators are used with hand controls, such as those in dental chairs. These actuators do not need positional feedback other than end-of stroke limit switches. Some dental chair actuator manufactures even eliminate the need of these limit switches by offering integral freewheeling at the end of stroke.
Other Applications of Linear Actuators
Linear Actuator is widely used in electric nursing bed, operation bed, traction, massage chairs, electric sofa, electric wheelchair, electric windows, electric booth, ergonomic furniture to linear motion actuator occasions, the installation is very convenient, widely applied in many fields of medical, fire protection, Home Furnishing, industrial automation, chemical industry, sanitary ware, leisure, medical rehabilitation.
The medical industry considers ergonomics, as well as reliability, and precision, as fundamentals for any medical device or equipment. They realize that actuators will help medical equipment meet these requirements. There are plentiful varieties of medical actuator technology devices available in the market, and it can be challenging to choose the right product. You can always get help of the professionals in the field, or a dental chair actuator manufacturer to understand the benefits of actuators in your medical systems.