Stepper motors are brushless DC motors that are widely used in motion control devices such as linear actuators when precision motion is required. They have emerged as cost-effective alternatives for DC servomotors in several applications ranging from machine tools, medical equipment, to computer peripherals and automotive devices, among others. A stepper motor-based linear actuator, which uses a stepping motor as the source of power, is widely recognized as a cost-effective and reliable motion solution. Trends towards miniaturization and cost reduction immensely contribute to the wide acceptance of the quieter, more efficient and durable stepper motor-based linear actuators. What else adds to their popularity for applications demanding high performance and exceptional endurance in a very small package? This post discusses the same in brief.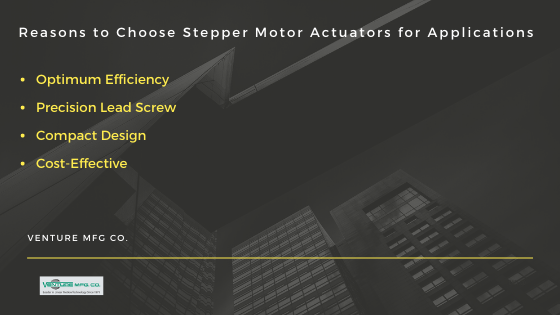 A Brief Introduction to the Working of Stepper Motor Actuators
The linear actuator transforms the rotary motion into linear motion. The stepper motor provides rotary power to the actuator. The rotor of the actuator features a threaded precision nut and a lead screw. These components produce a linear motion when the rotor is turned. This helps achieve high accuracy and resolution in applications, where precision motion is desired.
Advantages of Stepper Motor Actuators Listed
To meet the needs of a wide range of linear motion applications, there are several types of stepper motors available that normally work in three-step modes such as full step, half step, and micro-step. A few amongst the several advantages of these brushless DC motors are as follow:
Optimum Efficiency:With reduced power consumption, improved service life and decreased motor footprint, stepper motors offer excellent performance and lower cost for low speed. They assure accuracy/repeatability, infinite positioning capabilities, making them a popular choice to produce force, as well as motion along a straight path.
Precision Lead Screw: The manufacturing using precision lead screws assures maximum service life and quiet operation. Lead screws manufactured from premium-grade stainless steel are corrosion resistant and non-magnetic.
Compact Design:High accuracy and unsurpassed repeatability in an extremely compact package? Yes, stepper motor based linear actuators are designed in such a manner.
Cost-Effective: Compared to Servo Motor motion control systems, stepper motors are cost-effective. They are easy-to-setup and use due to simple structure and system configuration.
Other advantages of stepper motor actuators include:
Construction using minimized mechanical components
Simple control with no sensor or feedback
Increased torque density
High force output
Long-stroke lengths
Reduced noise
Open-loop position control
Brushless construction for long life
Ability to remain stable without undergoing any huge problems
These brushless DC motors are largely chosen for applications where predictable positioning is required. A few application examples include:
Automotive gauges
Surveillance products
Medical scanners
Fluid pumps and blood analysis machinery
Digital camera
Motor shafts?
High-speed pick and place equipment
Multi-axis CNC machines
Would you like to get a stepper motor-based linear actuator customized as per your application requirements? Then, Venture Manufacturing is the right source for you to get the same done with expected quality in a cost effective way. Let the team at Venturemfg know about your specific requirements. They will work with you to get your project done on time and in a stipulated budget.