In a battlefield, a soldier always uses an armored vehicle to target an enemy. He works with an assumption that the vehicle will work as expected. This assumption works only if the vehicle is equipped with an actuator. Over the years, the automated vehicles have improved in terms of ergonomics, speed, and security. This was possible only due to the advancement in automation technologies. Are you intrigued to know how actuators are driving the armored vehicles? This post discusses top 3 armored vehicle applications controlled by actuators.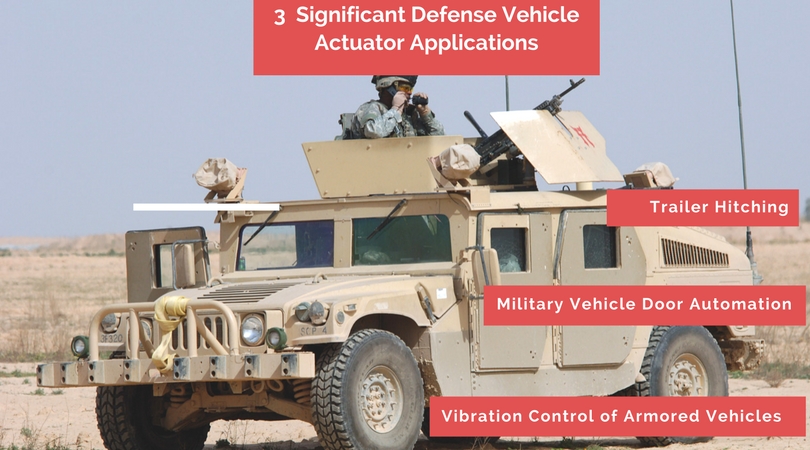 Know about Top 3 Applications of Actuators in Defense Vehicle Systems
Today, actuators are used in almost all facets of defense vehicle operation. The advances in automation technology enable troops to avail superior vehicle safety, as well as security. Here are the 3 ways actuators that are helping troops operate defense vehicles in battlefields.
Military Vehicle Door Automation: Most military vehicle manufacturers are facing a major challenge – designing vehicles that can overcome the threats inflicted by Improvised Explosive Devices (IEDs). This challenge has spearheaded the adoption of v-hull designs in various military vehicles. As a result, many military vehicles are using advanced hydraulic actuators for opening and closing doors, as well as operating the engine/ hood covers.
Vibration Control of Armored Vehicles: When a vehicle rolls on the ground, it creates vibration. This is due to the surface it rolls over. This vibration is countered using actuators, which opposes the motion, and helps avoid the friction. Today, linear electric actuators in military aircraft are also used for vibration controls.
Trailer Hitching: Trailers are used in the military vehicles to increase the carriage capacity. Typically, the trailers are used to haul specialized weapons and equipment to the war zone. Most military vehicles, including HMMWVs, and jeeps are equipped with specially designed trailers. Most military trailers are designed in the same size as regular commercial trailers, which helps them perform in all conditions, as well as simplify the logistics-related hassles. Actuators help to connect trailers safely without leaving the vehicle.
Thus, various military vehicle solutions are benefitting from linear electric actuators in many ways. With a wide range of applications and roles to play, these actuators are wielding big influence in the military industry. Thus, it is important that you source them from a reliable manufacturer. Venture Mfg.Co is one of the leading manufacturers of actuation systems for armored military vehicles.