Smart relaxation equipment like lounge chairs, pedicure chairs, massage tables, leisure chairs, recliners, and treatment chairs have gained immense popularity in recent years. Many people suffer from fatigue, stress, back pain, weak muscles, and other musculoskeletal problems brought by their job and lifestyle choices. A relaxation equipment is designed to help people relax comfortably with minimal effort. These smart equipment are equipped with electric actuation technologies that make adjustments and movements easily. Although these actuators are not seen, they still play a big role in the movement of this equipment. Are you intrigued to know how these electric motion solutions are contributing to the performance of relaxation equipment? If yes, this post guides you through the same and more.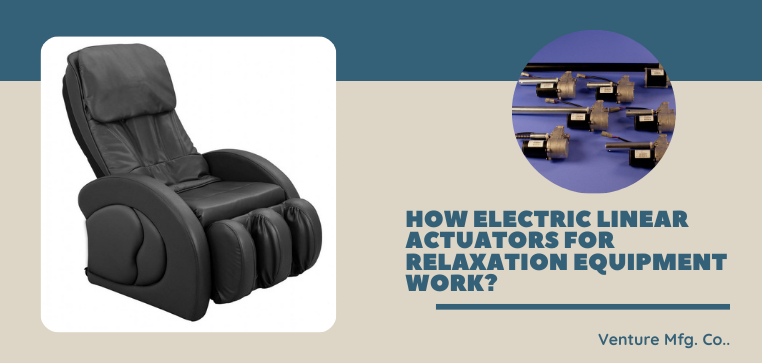 How Electric Linear Actuators for Relaxation Equipment Work?
Electric motion solutions have evolved over the years. Earlier their role was limited to initiating motion; however, today OEMs use them to improve ergonomics and augment user experiences pertaining to this equipment. The following pointers will help you understand it better.
Linear Vertical Movements: The vertical movements of relaxation equipment can be controlled using an actuator. Effective control of up and down movements of the chair also contributes to improved ergonomics. A user will feel comfortable and relaxed if the chair can be adjusted to the required height with minimal effort.
Rest Position: Electric linear actuators allow users to achieve a comfortable position for resting. Generally, back lift actuators are used for this purpose.
Tilt Function: The chair legs support the weight of the individual sitting on it. Thus, it must be properly controlled to ensure the safety of users. Electric linear actuators help in tilting the chair and achieving better control of the chair legs.
Relaxation chairs are nowadays widely used across medical segments where users with different health disorders are being treated or cared for. Nowadays, electric actuation systems are being used in treatment chairs, beds, and tables for:
Operating reading lights attached to the chair or bed
Actuation of wet sensors
Initiating nurse call function
Actuating built-in scale weight management equipment
With such an important role to play in offering relaxation and comfort to users, electric linear actuators for relaxation equipment need to meet certain requirements. What are they? The next section discusses the same and more.
Things to Look When Choosing Electric Linear Actuators for Relaxation Equipment
The following are certain factors to consider when buying electric motion solutions for relaxation equipment.
Smooth and Silent Movements: Imagine sitting in a chair or on a table that makes noise with the movement. How awkward the situation will be? Isn't it?! This is why it is important to choose an electric linear actuator that assures noise-free, quiet movements.
Lift Capacity: This would matter for all types of relaxation equipment; after all, they host people of various morphologies. Check the lift capacity of the actuators. Ensure if they can accommodate people in higher weight ranges.
Robust Construction: Most relaxation equipment described in this post is designed for long-term use. What if the actuator breaks down often? Replacing or repairing them regularly won't be a feasible option. Hence, it is always better to choose an actuator with robust construction that assures years of unfailable service.
Advanced Integration Capabilities: As said before, the electric linear actuators nowadays serve more than just initiating motion. Hence, check if the electric motion solution under consideration can support motors and accessories that help improve the function of these equipment.
It can be rightly said that electric linear actuators are redefining the concept of relaxation. So, OEMs need to invest in high-quality electric motion solutions that assure reliability, stability, and above all –total relaxation and comfort to users of such equipment. For this, they need to partner with experienced and trusted players with expertise in electric linear actuators for relaxation equipment.