Linear actuators can be used as effective industrial solutions to increase overall operational efficiency. They can be found in applications in various industries such as healthcare, renewable energy, and manufacturing, to name only a few.
The linear actuator industry is a highly specialized one, that requires vast amounts of knowledge and years of industrial experience. If you are looking out for linear actuators for an application, you need to contact a company that has the requisite expertise, equipment, and experience. Fortunately, there is one company that has been continually fulfilling the needs of industries – Venture Mfg. Co.
Founded in 1971 in Dayton, Ohio, Venture Mfg. Co. has created a stellar reputation and earned the trust of its industrial customers by providing cutting edge actuators and industrial products at cost-effective prices. The Venture team is able to accomplish thanks their 40 years of expertise and experience, their state-of-the-art manufacturing facility, and latest engineering and manufacturing equipment.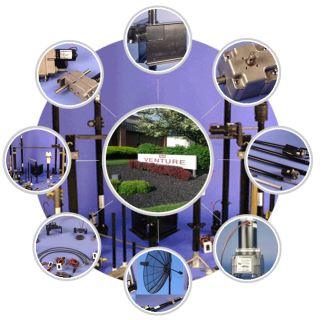 Venture Mfg. Co. provides its customers a wide range of actuators and other industrial products:
Commercial Actuators
RV Slide-Out Actuators
DC Actuators
Stepper Motor Actuators
Military Actuators
DC Gear Motor
Satellite Actuators
Solar Tracking Actuators
Manufactured Housing
RV Jacks, RV Landing Gear and Accessories
Custom Cables and Harnesses
Gearboxes and Motor Gearboxes
Stampings
Tube Processing
Welding
Assembly
Light Manufacturing
Creating efficient and high performance industrial products is the main goal. This ideology is followed throughout the entire manufacturing process. Venture's production facility comprises 45,000 sq ft with specialized robotics, and unique manufacturing techniques. These advanced technologies and techniques allow Venture to consistently provide quality products to customers in America and across the globe.
A successful partnership relies on product as well as service quality. Venture has the ability to handle large volume productions and deliver products with short lead times of two weeks. Overseas customers need not worry about speaking to unknown suppliers as Venture has a list of trusted suppliers across the globe. These suppliers can provide products such as actuators, cable harnesses, and industrial gearboxes to overseas customers with the same level of excellence as Venture.
If you would like to know more about Venture Mfg. Co. and its services, visit their website at www.venturemfgco.com.