The modern agricultural industry depends a great deal on small and large farming equipment. Many machines, such as corn detasselers, threshers, and fertilizer sprayers are automated to ensure that the farming process is performed and completed with precision. Linear actuators can support a variety of agricultural applications. They support agricultural equipment by providing precise motion control for various components, thus enabling the completion of various farming processes.
How Electric Linear Actuators Support the Agricultural Industry
Farmers have a work schedule that begins before sunrise and ends around sunset. Numerous activities need to be completed within this timeframe. Therefore, the equipment need to work precisely to a timed schedule for the daily work to be completed. Also, farming equipment is utilized in extreme weather, which can lead to problems like corrosion, and dirt and dust accumulation. Hence, linear actuators for agricultural industry needs to be designed for efficiency and durability.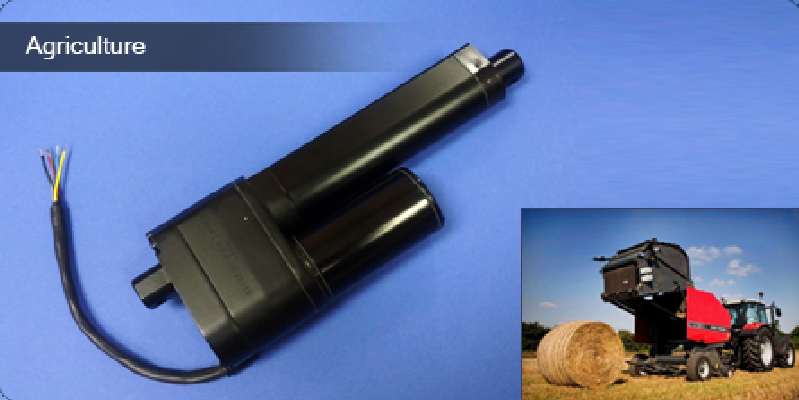 The benefits of electric linear actuators can help you understand why they are the best choice against hydraulic actuators.
Flexibility: They can be designed in a variety of sizes and power ranges. The design can be done to create seamless interactions with control systems.
Accuracy: Many large sized equipment require forces up to 10,000 N. An electric actuator can provide the exact amount of power for an application. Feedback provided in terms of positioning is extremely accurate.
Risk and Maintenance-free: Electric linear actuators provide many years of service without requiring maintenance. They eliminate the risks related to leaking of hydraulic actuators. Also, linear actuators consume less power compared to hydraulic actuators.
Linear Actuators in Agricultural Applications
Given below are small as well as large applications, which make use of electric linear actuators.
Fertilizer Spreader: Agricultural actuators can be used to regulate the amount of fertilizer that is dispensed onto field crops. They accomplish this by way of a controlled system, allowing the farmer to calibrate the automatic spreader according to the field layout and fertilizer requirement. Potentiometers communicate with the control system so that the spreader can dispense only the right amount of fertilizer on crops.
Combine Harvesters: Electric linear actuators can provide many solutions for combine harvesters. The actuator control systems can be used to adjust the position of the cutter bar, and the speed of the knives on the bar. The covers of grain tanks can be opened and closed easily using linear motion control, allowing for easy grain removal.
Corn Headers: Corn headers are designed to provide cleaner corn loads. They consist of large teeth that tear the corn from the stalks. Linear actuators can be used to maintain the exact distance or space where the corn cobs will be cut from the cane or stalk.
Miscellaneous Applications: Other smaller sized application where linear actuators are used include:

Opening and closing of barn or stable doors
Activation of ventilation systems of storage sheds
Timely opening of feed gates for animals
Electric linear actuators can be adapted to provide solutions for a variety of farming applications. Whether its complete motion control or precise adjustments in movement, linear actuators prove to be indispensable products for the agricultural industry.